First time Biorhythms Pro program will start in a Demo mode. This is almost a fully functional copy of the program except it will not display biorhythms for dates after December, 2021. It enables evaluate advantages of the program.

In order to register program, click Help, Register Program, and following screen will appear: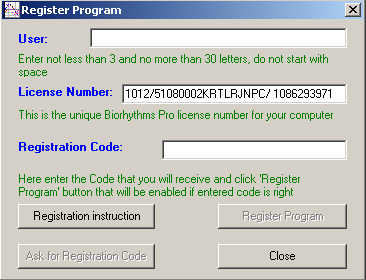 ---
1. Enter User name (not less than 3 and no more than 30 characters; do not start with space). "Ask for Registration Code" button will become enabled after you enter first three letters.
2. Then click "Ask for Registration Code" button and email will be sent to the distributor of this program. Shortly you will receive information how payment can be done. Preferred method is PayPal. More details here.
---
If you do not use Windows email program, as Outlook Express, Windows Mail, Mozilla Mail, Pegasus or similar, but have web-based email, as Yahoo, Gmail, Hotmail, then:
1. Enter User name.
2. Click "Ask for Registration Code" button.
3. Then simply select and copy Serial number information (Serial Number: 001039 // 10615......, like in the white field of the picture below), paste it into the body of the email message and send to email valentasd@hotmail.com

.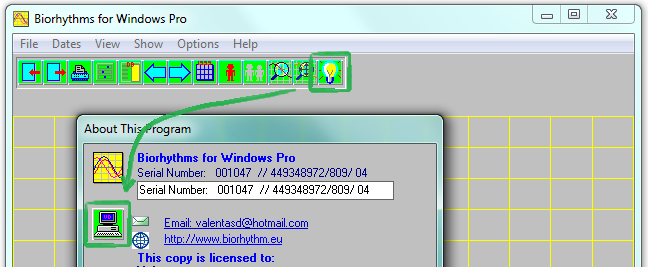 Note: To open this screen, click Help, About this Program (or lamp icon), and then click computer icon. Another click on the computer icon will hide this field.

---
After payment you will receive Registration Code, which you have to enter into "Registration Code" field (with Copy/Paste), press "Register Program" button and all features of the Biorhythms Pro program will be enabled.
If you will decide to install program into different computer, you will need another registration code.
Button "Registration instruction" will allow you to go directly to Internet sites of the distributors of the Biorhythms Pro program.
Program license allows user to obtain up to 3 registration codes and to install Biorhythms Pro in up to three computers at one time. If user of Biorhythms Pro program will obtain a new computer or will need to re-install program, he or she will be provided with additional registration code for free.
---